Every year, many thousands of people flock to Europe in the summer, with good cause: The scenery is beautiful, the days are very long, and the weather is mild. Comparatively few people come to Germany in December. They may come to the Alps for skiing, but they usually ignore most of the rest of what is going on. This is a shame, as with closing in on 10 years total of living in Germany, I can tell you that December in Germany is perhaps the best time of the year. It all starts with Advent…
<![if !vml]>
<![endif]>
<![if !supportEmptyParas]> <![endif]>
Advent, for those of you not from a liturgical church background (Catholic, Anglican, Episcopal, Lutheran), is the beginning of the Church Year. It starts four Sundays before Christmas, and is a time of prayer and reflection in the lead-up to the celebration of the Birth of Christ on Christmas. Christmas itself is not simply one day, but twelve (You've probably at least once sung the song "The Twelve Days of Christmas"). It starts on December 25th, but continues for twelve days to January 6th, which is known as Three Kings Day (celebrating the arrival of the Magi with the gifts - which in all actuality was an unspecified number of people, but three gifts, and didn't occur mere days after Christ's birth, but likely a considerable time later).
<![if !supportEmptyParas]> <![endif]>
In America, we celebrate Thanksgiving on the last Thursday in December. Because Christmas is always on the 25th of December, and Advent begins four Sundays before, Advent can start as early as the Sunday immediately following Thanksgiving, or as late as the first Sunday in December. This year, 1st Advent was November 28th. Many Americans begin their Holidays Celebrations with Thanksgiving - decorating for Christmas with the family on Thanksgiving Day, watching the Macy's Thanksgiving Day Parade, and going into a shopping frenzy on Friday. They then continue the celebration all the way to Christmas Day (December 25th). Often, they will extend the celebration through New Years' Day.
<![if !vml]>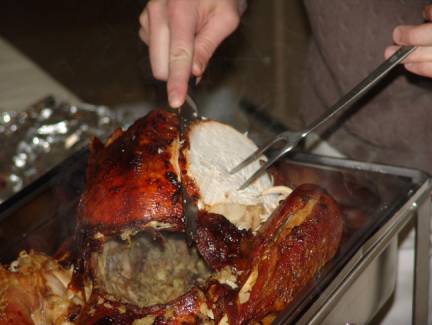 <![endif]>
Germany does not celebrate the American holiday of Thanksgiving, so there is not such a clear starting point. Nonetheless, most of the Advent festivities began about the same time as Thanksgiving. The German holiday of Weihnachts is what we call Christmas - though it is literally translated as the Holy Nights. Virtually every town, and all the cities in Germany hold a Weihnachtsmarkt - Christmas Market. Some are very small, and very short: Oftersheim for example had about three stands and was one day, Saturday the 27th of November. There are many good and large ones, and often quite historic and/or scenic.
<![if !vml]>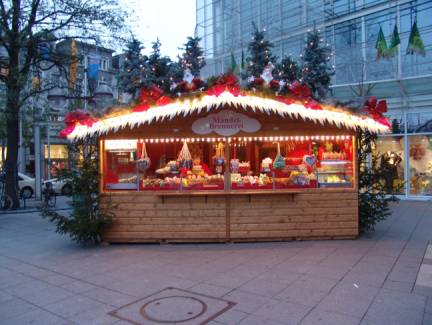 <![endif]>
The day after Thanksgiving, I went into downtown Heidelberg, and parked at one end of the Hauptstrasse (Main Street - a pedestrian zone). My last time at a German Weihnachtsmarkt was in December of 1989, and it was in Mannheim (I got to the Mannheim one on Saturday the 28th). Getting out of the Parking Garage, I found at Bismarkplatz (the main transportation square on one end of the Hauptstrasse - where all the busses, trams, and parkhauses are) about 4 classically decorated wooden stands. One was a "Mandel-Brennerei", one was a "Glühwein" stand, with a Grill-Stubel adjoining, a Decoration stand, and a jewelry stand. The Mandel-Brennerei would be obvious to anyone who saw it as a Candy Stand. Their big thing was selling candied Almonds, though they also sold candied nuts of virtually every type (Peanuts, Walnuts, Pecans, Sunflower seeds, etc.), as well as popcorn, and chocolate covered fruit. The Grill-Stubel would also be easily identified by any who saw it, with a circular grill (about 1 meter or 3 feet in diameter) suspended above a natural wood fire, covered with Bratwurst of various sizes and colors dominating the interior.
<![if !vml]>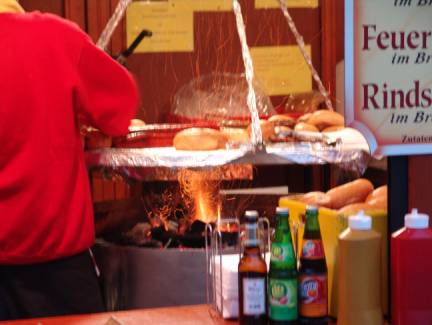 <![endif]>
Glühwein needs a little more explanation - it is a hot mulled wine that is served only during Advent, and only in and around the markets (It is important to know that there is no restriction on open alcohol containers in Germany - you can drink out on the street, and often do). In my previous years, I had often smelled Glühwein, but had never tasted it (I was 14 for my last Advent in Germany). Knowing that I would have to drive home that evening, I made sure to get some Glühwein at the start, and then spend several hours to let it get out of my system before getting behind the wheel. In Heidelberg, it is served in a small (0.2L) decorative mug with a €1.20 deposit (That was about $1.50 when I was there, but is now almost $1.75 due to the sinking Dollar vs. the Euro). It was steaming hot - I actually burned my tongue slightly on it.
<![if !supportEmptyParas]> <![endif]>
Sipping on Glühwein, I made my way down the Hauptstrasse, and found another cluster of huts. All were simple wooden huts, with traditional Christmas décor. The second cluster included a Crepes and Waffel Bäckerei - serving Belgian Waffles and French Crepes, another Glühwein stand, another Bratwurst stand, and several stands with tree decorations and assorted gifts (Ceramics, African wood carvings, etc.). The next square was the big one for Heidelberg - Universitäitsplatz (University Place), with dozens of stands and many people. Inside were erected shops with all manner of Christmas gifts and traditional decorations - including wood carvings, candles, crystals, glass shaped ornaments, glass painted ornaments, hats, gloves, wallets, genuine fur clothing articles, wool clothing, toys of many varieties, and on, and on, and on. There were also more Glühwein stands, and food stands than I could count. Bratwurst of almost every variety: Thüringer (foot-longs from the Thüringen region), Pfälzer (the traditional Bratwurst of the Pfalz region around Heidelberg), Weisswurst (White wurst), Rotwurst/Feuerwurst (Red, or Fire wurst), Half-meter wurst (that would be about 20"); Steak Sandwiches (optionally with onions), Kartoffelpuffer (Patato pancake - but that's the wrong idea, it's actually a Potato Puff - kind of a cross between a pancake and a hash brown - served with Apple sauce), etc, etc, etc…. Then there were the sweets stands - with Lebkuchen (A honey spice-cake that is actually the predecessor to Gingerbread cookies), candied apples, chocolate covered bananas, chocolate dipped strawberries, fudge, candied nuts, etc, etc, etc… Roasted Chestnuts ("Heisse Maroni"), Waffles, Crepes, ad naseum. There were also several rides for kids (including a Merry go-round).
<![if !vml]>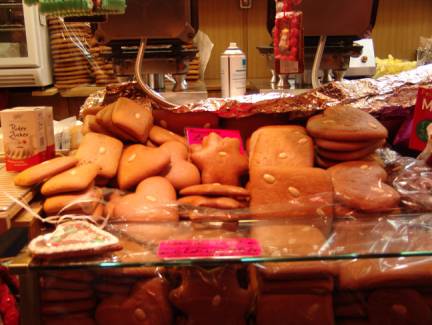 <![endif]>
At the main Church Square, was a gigantic Weihnachts Pyramide (Christmas Pyramid). The Traditional pyramid is between 10" and 2' tall, and is essentially a series of carved wooden merry-go-rounds stacked one on top of another much like a wedding cake, with wooden "fan blades" radiating out from a hub at the top. Around the outer edge of each level are candleholders, so that the heat rising from the candle flame causes the fan blades to rotate the interior. The one in Heidelberg was about 4 stories tall (Life sized), with a Glühwein/drink stand on the ground level. It was illuminated with hundreds of lights (Did you know that they are operating an improperly shielded nuclear reactor in downtown Heidelberg?), and was electrically powered for rotation. Around it were more shops, including one with Zimtsterne (Cinnamon Stars). The next square over was the Children's square, with a ride able railroad, animals, and a pony-ride.
<![if !vml]>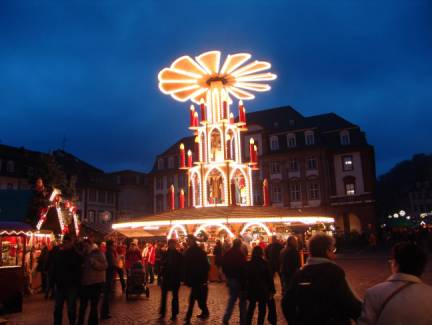 <![endif]>
Properly fed with too much good food, and having had time to process out the alcohol (it was never enough to push me over any legal limits anyway), I concluded my evening, and returned home with my Glühwein mug and many photos. The following morning, I headed out for a Saturday of Weihnachtsmarkts.
<![if !vml]>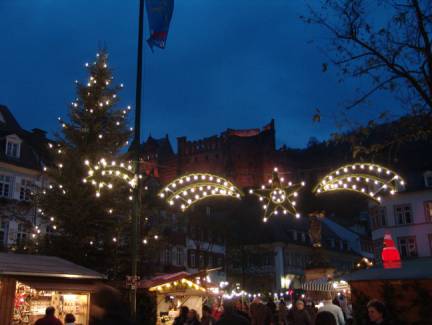 <![endif]>
The first one I went to was in Ladenburg, a Roman town dating to 120B.C., located mid-way between Mannheim and Heidelberg. The classic booths lined the market square, looking much as they must have for almost 500 years (many of the buildings facing the market date to the 1200s). It was a simple market, but too early in the day to really get the impact of it, and only a few of the shops were open.
<![if !vml]>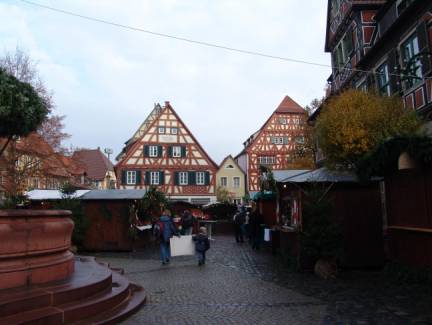 <![endif]>
I spent the evening, exploring the Mannheimer Weihnachtsmarkt, around the base of the Wasserturm (water tower). Here, several dozen stands and booths encircled the historic symbol of Mannheim. In addition to the foodstuffs of Heidelberg, were Gyros (a Greek lamb sandwich), Spiess (a form of shish kabob), pastries, and more. The location was scenic, and crowded. On one side of the tower was a stage where various groups gathered to perform various traditional (and non-traditional) Christmas music. Nearby, a booth sold Met, or Meade (which for some reason had helmets with horns sitting atop the warmers.
<![if !vml]>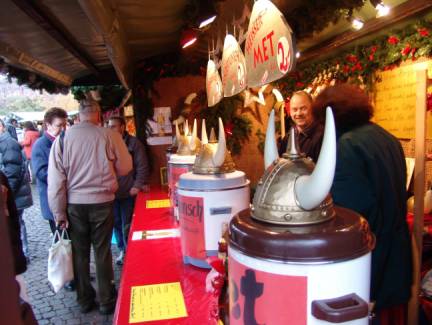 <![endif]>
Sunday, after church, I went to the historic market in Neckarsteinach (a few miles upriver from Heidelberg). It was small, and quaint, and just for that weekend. I went on up the Neckar valley, and saw how horribly crowded the Bad Wimpfen market was, and decided to skip it, and come back later.
<![if !vml]>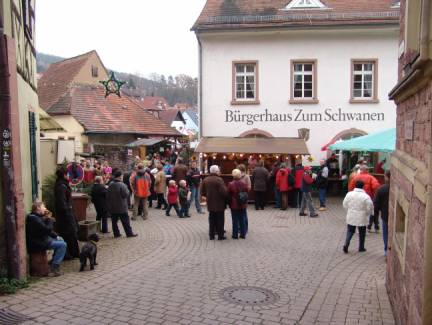 <![endif]>
The following Saturday, we had a Greening of the Church, with goodies and Glühwein to add to the festivities. Sunday, the 5th, we had an illuminated service (where each part of the service was explained as to origin and liturgical purpose). That evening, a group of us met and went down to the Heidelberg Weihnachtsmarkt. Good food, good drink, and good company. I returned home with another Glühwein mug.
<![if !vml]>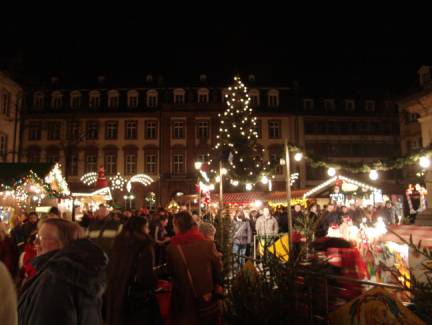 <![endif]>
Saturday, the 11th I drove to Bad Wimpfen for the market there. The streets are too small in this town to put booths on both sides, so they only allow booths along one side of the street, giving plenty of room to maneuver. There were the ubiquitous Glühwein and Bratwurst and backer stands, and some very good decorations in this scenic town of fachwerk. When I reached the Market Square, I saw der Weichnachtsman himself, and his guards (We know him in America as St. Nick or Santa). From the top of the Blue Tower (The same tower I described a few months back as the one that burned several times) I had spectacular views of the Weihnachtsmarkt, numerous fachwerk houses, and the heavy frost on the roofs. I also spotted a gigantic Gingerbread house, which in fact was a fachwerk house decorated to LOOK like a gingerbread house, as part of the baked-goodies booth in front of the house.
<![if !vml]>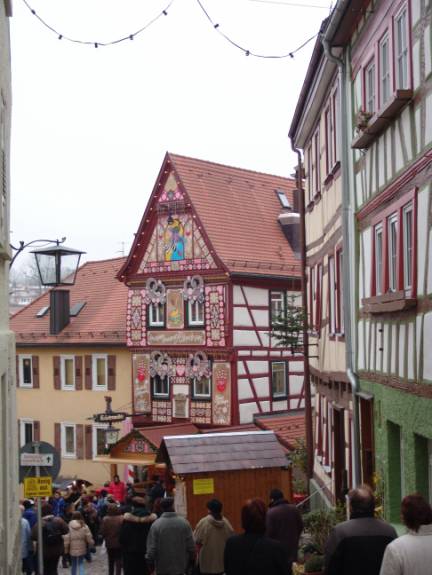 <![endif]>
After leaving Bad Wimpfen, I drove up to Mosbach (on the fachwerk road - a scenic historic road of towns with fachwerk architecture). I picked up a Glühwein Stiefel (Boot shaped mug - but I skipped the Glühwein), and did a tour of the market - complete with a local brass ensemble playing Christmas music on the main square. That evening, I took the Strassenbahn (Street Car or Tram) into downtown Mannheim, and ate my dinner, and desert in the market, with plenty of warmth provided by Glühwein. I returned to my quarters that evening with two Glühwein mugs, and a Glühwein Stiefel, as well as a few Christmas decorations and gifts.
<![if !vml]>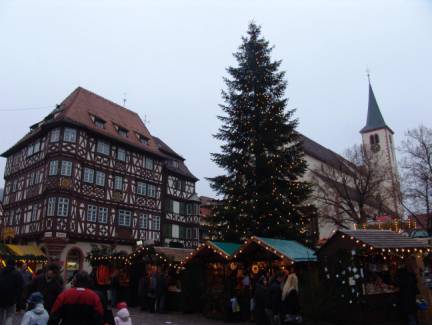 <![endif]>
I had spent weeks trying to put together a trip to Nürnberg to the Christkindlesmarkt (Christ-child market, one of the oldest, longest running, largest, most scenic, and most well known Christmas markets in Germany). Every time we had a plan working out, it got postponed. Ultimately, it got slated for the 16th of December. I did most of the planning, and provided the information on the historic sites. Unfortunately, the 16th was the one day all year I could not go along - so that morning I put most of my company on the bus, complete with info packets, and maps, and watched them drive off to Nürnberg, while I went the other direction - to the Airport in Frankfurt to pick up my parents who were arriving for the holidays that morning. Aside from a problem with the bus driving being lazy, everybody had a great time in Nürnberg. I picked up my folks, got them checked into their hotel, and we then went downtown to the Mannheim Weihnachtsmarkt. It had been 15 years since either of them had been to a Christmas market. I parked in the underground parking garage that was literally UNDER the market. As we pulled into the garage, the aroma of the market permeated the car. I can take photos left and right, record audio/video clips to provide you a glimpse of the sights and sounds…. but I cannot share with you the aroma. There is nothing in the world like the aroma of Bratwurst grilling over wood fires, Steaming Glühwein, candied nuts, etc. etc. etc., and there is no way to adequately describe it. We spent the evening eating dinner on the market, and my folks enjoyed some Glühwein.
<![if !vml]>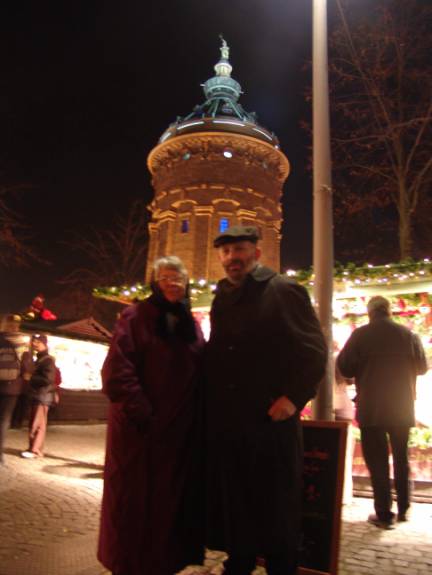 <![endif]>
Unfortunately, one of the bratwurst I had disagreed with me, and I got sick in the middle of the night. I fought off the ill effects of the worst wurst almost until Christmas. Oh well, I couldn't really afford to eat like I wanted to that week anyway!
<![if !vml]>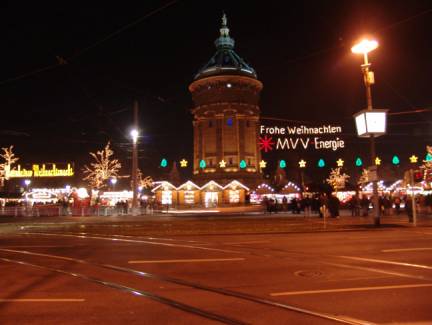 <![endif]>
Friday evening, after a Company Christmas party, I drove my folks over to their old Choir nearby for an evening with friends - most of whom they had not seen in 15 years. Saturday afternoon (after recovering from the hangover of the celebrating on Friday - actually just dealing with the Jet-lag adjustment). We hit the Speyer Weihnachtsmarkt, and a brief stopover at the Schwetzingen Weihnachtsmarkt before going to Choir Practice in Heidelberg, and going out to dinner with another group of old friends of the family.
<![if !vml]>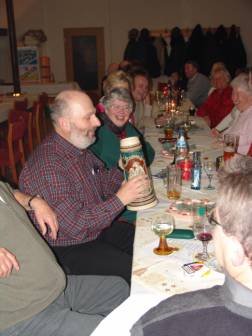 <![endif]><![if !vml]>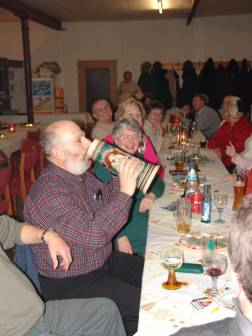 <![endif]>
Sunday after church, we attended a concert in nearby Friedrichsfeld, and then had dinner with some old friends of the family - Udo and Gabrielle. He's a retired Mannheim Politzei officer (Police), and both sang in the same choir with my parent's 15 years ago. I was still queasy from my food poisoning, and I had a full day of work the next morning, so we couldn't stay as late into the evening as we otherwise might.
<![if !vml]>
<![endif]>
Tuesday, we made the trip as a family to Nürnberg. First stop was my first neighborhood, followed by the plot of ground where the hospital I was born in used to be. A little before sunset, we got to downtown Nürnberg. Many people in the U.S. have heard about Rothenburg ob der Tauber, the classic medieval walled city. That is a misnomer; Rothenburg is a medieval walled town. Nürnberg was a walled City. Prior to the bombing of WWII, most of the downtown area was classic fachwerk everywhere. It was such a typically German city, that the Nazi party used it for National rallies in the 1930s. Though almost totally destroyed by the war, much of the old city has been painstakingly rebuilt. However, most of the fachwerk construction is gone. For much of the history of Nürnberg, it was the Toy Capital of Germany - so the Christkindlesmarkt has traditionally been a very toy-centric market. There's actually a complete sub-market called the Kinderweihnact - the Children's Christmas market. Other things that Nürnberg is known for include Lebkuchen (The predecessor to Gingerbread cookies - a honey spice cake, on a wafer, usually covered with chocolate), and Nürnberger Bratwurst - really small bratwurst, served in larger numbers (You don't get one, you get 6 or 8 or 12). We enjoyed some good, fresh Lebkuchen, and browsing the booths of the market. For dinner, we went to the Bratwursthäusle - a half-millennia old inn, that appears much as it has throughout history. The Nürnberger Bratwurst and German Potato-salad were probably the best in the world. Sitting on a worn wooden bench, at a similarly worn wooden table, with downright ancient tableware…. We were transported over 500 years back in time for that meal. On our way out of town, we had some sweets at the market, and then drove back to Mannheim.
<![if !vml]>
<![endif]>
On Wednesday the 22nd, I had a half-day of work, after which my parents and I had dinner in Heidelberg, followed by a tour of the Heidelberg Weihnachtsmarkt in the snow - the first snow since Thanksgiving. Unfortunately, I had to pull a 24-hour shift on the 23rd, so that brings us to Christmas.
<![if !vml]>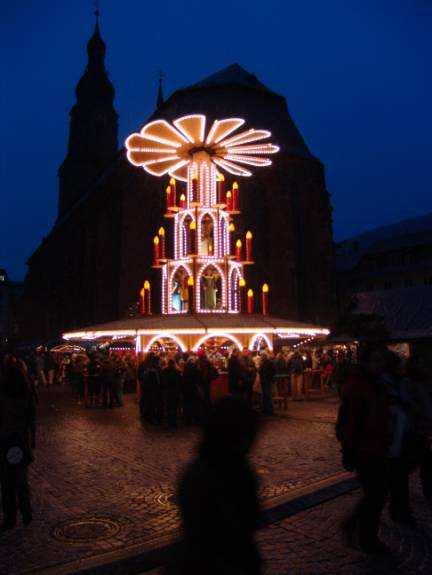 <![endif]>
I am leaving for a week in Berlin in the morning, when I return, I'll send out my Christmas, New Year's, and Berlin write-ups. Until then, Merry Christmas, and Happy New Year!
<![if !vml]>
<![endif]>